Últimas Noticias
Debate: ¿Quieres que Spider-Man y Wolverine vuelvan a Marvel?


May 24th, 2013

Video: Amanda Bynes detenida por posesión de marihuana y mucho más


May 24th, 2013

Morgan Freeman habla sobre quedarse dormido en medio de una entrevista en directo


May 24th, 2013

Nuevo banner de "Pacific Rim" muestra la lucha entre un gigantesco robot y un enorme monstruo


May 24th, 2013

Primera foto oficial de Naomi Watts como la Princesa Diana en "Diana"


May 24th, 2013

Quicksilver a aparecer en "The Avengers 2" y "X-Men: Days of Future Past", Marvel y Fox no están contentos


May 24th, 2013

Vídeo: Morgan Freeman se duerme durante entrevista de TV en vivo


May 24th, 2013

Nuevo poster espeluznante de la película de terror "The Conjuring" de James Wan


May 24th, 2013

Nuevo trailer del thriller de carreras "Rush" con Chris Hemsworth


May 24th, 2013

Las primeras reseñas de "World War Z" son sorprendentemente positivas


May 23rd, 2013

Robert Downey Jr no aparece en muchas de las escenas de Tony Stark en "Iron Man 3"


May 23rd, 2013

Trailer de "Metallica Through the Never," con Dane DeHaan y Metallica


May 23rd, 2013

Nuevo trailer restringido de "This Is The End", con Seth Rogen y James Franco


May 23rd, 2013

Nuevo trailer de "Grown Ups 2" de Adam Sandler


May 23rd, 2013

Un nuevo trailer de "Monsters University" de Pixar online


May 23rd, 2013

Trailer de "Don Jon", con Joseph Gordon-Levitt y Scarlett Johansson


May 23rd, 2013

Trailer de la comedia de Vince Vaughn "Delivery Man"


May 23rd, 2013

"Timecop" de Jean-Claude Van Damme a conseguir un remake


May 23rd, 2013

Trailer restringido para la comedia "We're the Millers" de Jennifer Aniston


May 23rd, 2013

Nuevo trailer de "The World's End" de Edgar Wright, con Simon Pegg y Nick Frost


May 22nd, 2013

Hugh Jackman sin camisa en la portada de Entertainment Weekly para "The Wolverine"


May 22nd, 2013

¡Ya está aquí el nuevo trailer de "Man of Steel"!


May 22nd, 2013

"Fast and Furious 6" rompe records de taquilla en Reino Unido


May 22nd, 2013

"The Human Centipede 3" se comienza a rodar este viernes


May 22nd, 2013

Dos nuevos posters de "The Smurfs 2"


May 22nd, 2013

El remake de "Sympathy for Mr. Vengeance" sale adelante


May 22nd, 2013

Nuevo trailer de la película de Ryan Reynolds, "Turbo"


May 22nd, 2013

Steven Spielberg desarrollando serie de TV de acción real de "Halo"


May 22nd, 2013

El productor de "Nymphomaniac" habla sobre las escenas de sexo hardcore de Shia LaBeouf


May 22nd, 2013

Dinobots y Galvatron a aparecer en "Transformers 4"?


May 22nd, 2013

Sam Neill dice que "Jurassic Park 4" es un reinicio, no volverá a protagonizar


May 21st, 2013

Nuevo trailer de "The Lone Ranger" de Johnny Depp llega online


May 21st, 2013

¡El nuevo trailer de "The Wolverine" ya está aquí!


May 21st, 2013

Primera imagen: Jennifer Lawrence como Mystique en "X-Men: Days of Future Past"


May 21st, 2013

Jeremy Renner no leyó el guion antes de firmar por "Hansel and Gretel: Witch Hunters"


May 21st, 2013

Tres nuevos posters de personajes de "Man of Steel", con Supermán, Zod y Jor-El


May 21st, 2013

April O'Neil ayuda a Raphael a pasar armas de contrabando en un nuevo video del set de "Teenage Mutant Ninja Turtles"


May 21st, 2013

Foto: Peter Jackson rueda las últimas escenas de la trilogía de "The Hobbit"


May 21st, 2013

Nuevos posters de "The Wolverine" con Yukio y Viper


May 21st, 2013

El remake de "Poltergeist" se rodará en septiembre. Primeros detalles revelados


May 21st, 2013
Anuncio de TV para "Fast Cinco" durante el Super Bowl
February 7th, 2011

- Alex De La Cruz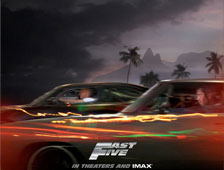 Universal Pictures acaba de transmitir un anuncio de televisión para "Fast Five," la quinta entrega de la franquicia de "Fast and the Furious," durante el Super Bowl. Ahora lo tiene a su disposición a continuación.

Sinopsis: El ex policía Brian O'Conner (Paul Walker) se asocia con el ex-convicto Dominic Toretto (Diesel) en el lado opuesto de la ley. Desde que Brian y Mia Toretto (Jordana Brewster) sacaron a Dom fuera de custodia, han volado a través de muchas fronteras para eludir a las autoridades. Ahora, acorralado en una esquina de Río de Janeiro, deben hacer un último trabajo con el fin de obtener su libertad.

A medida que arman su equipo élite de los mejores corredores, los aliados poco probable saben que su única oportunidad de salir significa enfrentar al hombre de negocio corrupto que los quiere muertos. Pero él no es el único tras sus cola. El agente federal duro Lucas Hobbs (Johnson) nunca pierde su objetivo. Cuando se le asigna a localizar a Dom y Brian, él y su equipo de ataque lanzan un asalto para capturarlos.



Anuncio de TV Super Bowl:

| | |
| --- | --- |
| | Fuente: Universal Pictures |
Por Favor Recomiende a PeliBlog en Facebook
Comentando en PeliBlog: Por favor, mantenga todos los comentarios en tema. Los comentarios que sean ofensivo o spam serán eliminados. Si violas constantemente las normas, serás expulsado.
Alrededor De La Web