Últimas Noticias
Tráiler para la película de ciencia ficción "Midnight Special", con Michael Shannon y Joel Edgerton


Nov 23rd, 2015

Tráiler de la comedia "Central Intelligence", con Dwayne Johnson y Kevin Hart


Nov 23rd, 2015

Trailer para la comedia "The Boss" con Melissa McCarthy


Nov 23rd, 2015

Trailer para "A Monster Calls" de Juan Antonio Bayona


Nov 23rd, 2015

Primer vistazo a la comedia "Central Intelligence", con Dwayne Johnson y Kevin Hart


Nov 19th, 2015

Trailer de "Zoolander 2" llega en línea


Nov 19th, 2015

Trailer de la secuela "Now You See Me"


Nov 19th, 2015

Trailer para "The Huntsman: Winter's War" con Chris Hemsworth


Nov 19th, 2015

Trailer para el thriller "Exposed" con Keanu Reeves


Nov 19th, 2015

Primer vistazo a Chris Pine en el set de "Wonder Woman"


Nov 16th, 2015

Ridley Scott revela un nuevo título para la secuela de "Prometheus"


Nov 16th, 2015

Gerard Butler es un dios en los posters de "Gods of Egypt"


Nov 16th, 2015

Primera mirada a Liam Neeson en "Silence" de Martin Scorsese


Nov 16th, 2015

Nuevo tráiler de "The Divergent Series: Allegiant"


Nov 16th, 2015

Tráiler de la comedia "Moonwalkers", con Ron Perlman y Rupert Grint


Nov 16th, 2015

Hay una buena razón por la que Luke Skywalker no está en el poster de "Star Wars: The Force Awakens"


Nov 2nd, 2015

Trailer de la comedia de Sacha Baron Cohen, "The Brothers Grimsby"


Nov 2nd, 2015

"Spectre" rompe record de taquilla en el extranjero


Nov 2nd, 2015

Trailer final para "In the Heart of the Sea" de Ron Howard, con Chris Hemsworth


Nov 2nd, 2015

Nueva foto de la película del videojuego "Warcraft"


Nov 2nd, 2015

Un montón de nuevas fotos de "Suicide Squad"


Oct 30th, 2015

Tráiler de la comedia "Dirty Grandpa", con Robert De Niro y Zac Efron


Oct 30th, 2015

Sandra Bullock a protagonizar en versión femenina de "Ocean Eleven"


Oct 30th, 2015

Trailer para la comedia de Jared Hess "Don Verdean", con Sam Rockwell


Oct 30th, 2015

Productor de "Indiana Jones" dice que Harrison Ford no será reemplazado


Oct 28th, 2015

Trailer para la comedia "The Ridiculous 6" de Adam Sandler


Oct 28th, 2015

Un fan de "The Walking Dead" mata a su amigo que se convirtió en un zombi


Oct 28th, 2015

Otra película de "Monopoly" en las obras


Oct 28th, 2015

El reinicio de "Jumanji" contrata a el escritor de "Con Air"


Oct 26th, 2015

La película "Tower of Terror" del paseo del parque de Disney se mueve adelante


Oct 26th, 2015

Johnny Depp y Edgar Wright se unen para "Fortunately, the Milk"


Oct 26th, 2015

George Clooney a dirigir "Suburbicon" de los hermanos Coen


Oct 26th, 2015

Anthony Mackie dice que "The Black Panther" no necesita un director negro


Oct 25th, 2015

Ben Affleck dice que dirigir el reinicio de "Batman" sería un sueño


Oct 25th, 2015

Trailer para el western "Jane Got a Gun" con Natalie Portman


Oct 23rd, 2015

Nuevo tráiler de la comedia "Daddy's Home", con Will Ferrell y Mark Wahlberg


Oct 23rd, 2015

Chris Rock acogerá los Oscars


Oct 23rd, 2015

La secuela de "Ant-Man" encontró director


Oct 23rd, 2015

Nuevo tráiler de "Pride and Prejudice and Zombies"


Oct 23rd, 2015

"Star Wars: The Force Awakens" destruye los records de pre-venta


Oct 21st, 2015
"Rise of the Planet of the Apes" domina la taquilla con $54 millones
August 7th, 2011

- Ryan Singleton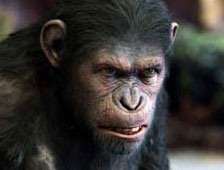 Gracias a críticas muy favorables, "Rise of the Planet of the Apes," obtuvo el primer lugar en la taquilla este fin de semana con $54 millones, lo cual es $20 millones más de lo previsto. En el extranjero, la película también superó las expectativas al recaudar otros $23.4 millones. Esa es una apertura total de $73.4 millones para una película que costó $93 millones para hacer.

"La combinación de efectos especiales nunca antes visto combinados con una historia poderosa, emocional hizo para una experiencia sumamente satisfactoria en el cine," dijo Fox.

El otro estreno ancho de este fin de semana fue la comedia clasificada R "The Change-Up," protagonizada por Ryan Reynolds y Jason Bateman. La película recaudó $13.5 millones y cayó en el cuarto lugar. A menos que tenga un buen desempeño en el extranjero, la película probablemente tendrá problemas para ganar de nuevo su presupuesto de $52 millones.

Mientras tanto, "The Smurfs" continúa con un buen desempeño. La comedia live-action/CG ocupó el segundo lugar con otros $21 millones. La película de $110 millones ha recaudado un total de $129 en todo el mundo en dos semanas. "Cowboys and Aliens," sin embargo, está luchando. Tomando el tercer lugar y $15.7 millones, la película de ciencia ficción recaudó sólo $67.4 millones en un presupuesto de $163 millones.
| | |
| --- | --- |
| | Fuente: THR |
Por Favor Recomiende a PeliBlog en Facebook
Comentando en PeliBlog: Por favor, mantenga todos los comentarios en tema. Los comentarios que sean ofensivo o spam serán eliminados. Si violas constantemente las normas, serás expulsado.
Alrededor De La Web