Últimas Noticias
Michael B. Jordan insinúa ser la Antorcha Humana en el reinicio de "Fantastic Four"


May 18th, 2013

Quicksilver y Scarlet Witch confirmados para "The Avengers 2", regresará Iron Man?


May 18th, 2013

Trailer del thriller de ciencia ficción "Europa Report" de Sharlto Copley


May 17th, 2013

Christopher Nolan en conversaciones para dirigir "James Bond 24"


May 17th, 2013

"Iron Man 3" cruza la marca de $1 mil millones en la taquilla mundial


May 17th, 2013

Karl Urban dice que la secuela de "Dredd" puede ocurrir


May 17th, 2013

Los 50 actores más ricos, ¿Qué actriz es más rica que Oprah?


May 17th, 2013

Un cuadro en topless de la estrella de "Golden Girls", Bea Arthur se vende por 2 millones de dólares


May 17th, 2013

Se cancela la serie de TV "Zombieland"


May 17th, 2013

Trailer final de "The Hangover Part III"


May 17th, 2013

"Crouching Tiger, Hidden Dragon 2" se comenzará a rodar en marzo con Michelle Yeoh y Donnie Yen


May 17th, 2013

David Goyer explica por qué "Man of Steel" no se llama "Superman"


May 17th, 2013

Primera imagen: Christian Bale y Natalie Portman en "Knight of Cups" deTerrence Malick


May 17th, 2013

Mickey Rourke y Wesley Snipes se unen a "The Expendables 3", Jackie Chan y Antonio Banderas en conversaciones


May 17th, 2013

Tráiler de la comedia "Last Vegas", con Robert De Niro y Michael Douglas


May 17th, 2013

Brad Bird quiere hacer secuela de "The Incredibles"


May 17th, 2013

Nuevo trailer de la película de ciencia ficción "Pacific Rim" de Guillermo Del Toro


May 17th, 2013

Vin Diesel dice que "Fast and Furious 7" se dirigirá en dirección distinta


May 16th, 2013

"Nymphomaniac" revela foto sexual promo, con Shia LaBeouf y Charlotte Gainsbourg


May 16th, 2013

"Star Trek Into Darkness" - ¿Qué le pareció?


May 16th, 2013

Detalles de la trama de "Hot Tub Time Machine 2" revelado


May 16th, 2013

Fotos: Actor de "Iron Man 2" visto en el set de "Capitán América 2"


May 16th, 2013

Tráiler restringido para la secuela de la película de terror "V/H/S"


May 16th, 2013

Poster: Directores de "Date Movie" trabajando en una parodia de "Fast and Furious", llamada "Super Fast!"


May 16th, 2013

Nuevo trailer de "Riddick" con Vin Diesel está aquí!


May 16th, 2013

El director de "Mania Days" le dice a los extras y a los miembros de la tripulación que dejen de pedir a Katie Holmes que salga con ellos


May 16th, 2013

Traerá Marvel a Jeremy Renner como Hawkeye de nuevo?


May 15th, 2013

Steven Spielberg explica cómo ganó millones de dólares en una apuesta con George Lucas


May 15th, 2013

La película de "Angry Birds" anuncia la fecha de lanzamiento


May 15th, 2013

Trailer del rip-off de Asylum de "Pacific Rim", titulado "Atlantic Rim"


May 15th, 2013

Fotos: Zoe Saldana se desnuda para Allure Magazine


May 15th, 2013

Poster del "Hercules 3D" de Kellan Lutz en Cannes


May 15th, 2013

"Mission: Impossible 5" contrata al escritor de "Iron Man 3"; Christopher McQuarrie en negociaciones para dirigir


May 15th, 2013

Foto: Hugh Jackman descamisado en una escena de lucha de "The Wolverine"


May 15th, 2013

Trailer de "Rio 2" online


May 15th, 2013

Trailer de 3-minutos para la serie de televisión "Agents of SHIELD" de Marvel


May 15th, 2013

Video del set de "Capitan America 2" muestra el Captain America y The Falcon


May 15th, 2013

Primer Vistazo: Woody y Buzz regresan para "Toy Story of Terror"


May 14th, 2013

Robert Rodríguez a dirigir la series de TV "From Dusk Till Dawn"


May 14th, 2013

Nuevo poster de "The Hunger Games: Catching Fire" muestra una Jennifer Lawrence heroica


May 14th, 2013
Trailer para "The We and the I" de Michel Gondry
May 15th, 2012

- Emily Johnson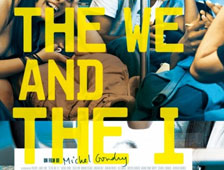 Después de dirigir la película de gran presupuesto "The Green Hornet", el director Michel Gondry (Eterno resplandor de una mente sin recuerdos) decidió hacer algo mucho más pequeño y más personal. Su nueva película se llama "The We and the I" y gira en torno a un grupo de adolescentes del Bronx. Hoy tenemos un trailer, el cual puedes ver a continuación.

Argumento: Una historia sentida y cómica del viaje final en autobús para un grupo de jóvenes estudiantes de secundaria y graduados. Mientras los jóvenes salen del autobús por última vez, aprendemos acerca de estos graduados, a medida que entran en el mundo - su amor, sus conflictos, su desesperación y su esperanza.

Antes de que Gondry comenzara a filmar, la historia se centraba en un grupo de niños escolares que viajan en el futuro por error y descubren una máquina que mantiene a la gente más joven. No hay ninguna señal de eso en el trailer, así que es posible que el ángulo de la ciencia ficción se haya sacado del guión.

La nueva película se estrenará en el Festival de Cine de Cannes. Todavía tiene que ser adquirida para su distribución en los EE.UU. u obtener una fecha de lanzamiento.



Trailer:

Por Favor Recomiende a PeliBlog en Facebook
Comentando en PeliBlog: Por favor, mantenga todos los comentarios en tema. Los comentarios que sean ofensivo o spam serán eliminados. Si violas constantemente las normas, serás expulsado.
Alrededor De La Web