Últimas Noticias
"Prometheus 2" busca reparto, Rik Barnett podría interpretar un papel protagonista


May 20th, 2013

Trailer del thriller de "Blood Ties", con Clive Owen, Mila Kunis y Zoe Saldana


May 20th, 2013

Warner Bros se prepara para "Justice League of America", Aquaman y Cyborg formarán parte del equipo


May 20th, 2013

Primera imagen de Peter Dinklage en el set de "X-Men: Days of Future Past"


May 20th, 2013

Trailer de la comedia de Larry David, "Clear History", con Jon Hamm, Eva Mendes y Michael Keaton


May 20th, 2013

"Star Trek Into Darkness" no le va muy bien, pero ya ha recaudado 164 millones de dólares


May 19th, 2013

Nueva trilogía de "Transporter" anunciada


May 19th, 2013

Marc Webb revela foto misteriosa del set de "The Amazing Spider-Man 2"


May 19th, 2013

Nuevo teaser de "Anchorman 2" online


May 19th, 2013

El director de "The Great Gatsby" dice que fue un idiota por rechazar "Harry Potter"


May 19th, 2013

Warner Bros revela una nueva foto del set de "Godzilla"


May 19th, 2013

Superman vs General Zod en los nuevos banners de "Man of Steel"


May 19th, 2013

Ron Howard y Brian Grazer usarán KickStarter para su película "Friday Night Lights"


May 19th, 2013

Marvel dice que "Marvel Zombies" nunca será una película


May 18th, 2013

Amazon cancela "Zombieland" por el odio brutal de los fans


May 18th, 2013

Ya está en marcha "RED 3" de Bruce Willis


May 18th, 2013

La estrella de "Terminator 2", Edward Furlong, arrestado de nuevo


May 18th, 2013

"Assassin's Creed" de Michael Fassbender ya tiene fecha de estreno


May 18th, 2013

Trailer de "Jimmy P" de Benicio Del Toro


May 18th, 2013

Michael B. Jordan insinúa ser la Antorcha Humana en el reinicio de "Fantastic Four"


May 18th, 2013

Quicksilver y Scarlet Witch confirmados para "The Avengers 2", regresará Iron Man?


May 18th, 2013

Trailer del thriller de ciencia ficción "Europa Report" de Sharlto Copley


May 17th, 2013

Christopher Nolan en conversaciones para dirigir "James Bond 24"


May 17th, 2013

"Iron Man 3" cruza la marca de $1 mil millones en la taquilla mundial


May 17th, 2013

Karl Urban dice que la secuela de "Dredd" puede ocurrir


May 17th, 2013

Los 50 actores más ricos, ¿Qué actriz es más rica que Oprah?


May 17th, 2013

Un cuadro en topless de la estrella de "Golden Girls", Bea Arthur se vende por 2 millones de dólares


May 17th, 2013

Se cancela la serie de TV "Zombieland"


May 17th, 2013

Trailer final de "The Hangover Part III"


May 17th, 2013

"Crouching Tiger, Hidden Dragon 2" se comenzará a rodar en marzo con Michelle Yeoh y Donnie Yen


May 17th, 2013

David Goyer explica por qué "Man of Steel" no se llama "Superman"


May 17th, 2013

Primera imagen: Christian Bale y Natalie Portman en "Knight of Cups" deTerrence Malick


May 17th, 2013

Mickey Rourke y Wesley Snipes se unen a "The Expendables 3", Jackie Chan y Antonio Banderas en conversaciones


May 17th, 2013

Tráiler de la comedia "Last Vegas", con Robert De Niro y Michael Douglas


May 17th, 2013

Brad Bird quiere hacer secuela de "The Incredibles"


May 17th, 2013

Nuevo trailer de la película de ciencia ficción "Pacific Rim" de Guillermo Del Toro


May 17th, 2013

Vin Diesel dice que "Fast and Furious 7" se dirigirá en dirección distinta


May 16th, 2013

"Nymphomaniac" revela foto sexual promo, con Shia LaBeouf y Charlotte Gainsbourg


May 16th, 2013

"Star Trek Into Darkness" - ¿Qué le pareció?


May 16th, 2013

Detalles de la trama de "Hot Tub Time Machine 2" revelado


May 16th, 2013
Tráiler de "360", con Anthony Hopkins y Jude Law
June 7th, 2012

- Alex De La Cruz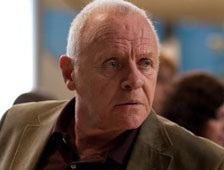 Magnolia Pictures ha revelado el trailer del próximo drama "360", protagonizada por Anthony Hopkins, Jude Law, Rachel Weisz, y Ben Foster. Compruébelo usted mismo a continuación.

Sinopsis: Un thriller dramático, conmovedor y emocionante que deslumbrantemente entreteje las historias de una serie de personas de diferentes estratos sociales a través de sus relaciones que se interceptan.

La nueva película está dirigida por Fernando Meirelles (City of God, The Constant Gardener) de un guión de Peter Morgan (The Queen). Ya se estrenó en el Festival de Cine de Toronto y ahora está previsto que llegue a los cines el 03 de agosto, en versión limitada. También estará disponible en iTunes el 29 de junio.


| | |
| --- | --- |
| | Fuente: Apple |
Por Favor Recomiende a PeliBlog en Facebook
Comentando en PeliBlog: Por favor, mantenga todos los comentarios en tema. Los comentarios que sean ofensivo o spam serán eliminados. Si violas constantemente las normas, serás expulsado.
Alrededor De La Web