Últimas Noticias
¡Ya está aquí el nuevo trailer de "Man of Steel"!


May 22nd, 2013

"Fast and Furious 6" rompe records de taquilla en Reino Unido


May 22nd, 2013

"The Human Centipede 3" se comienza a rodar este viernes


May 22nd, 2013

Dos nuevos posters de "The Smurfs 2"


May 22nd, 2013

El remake de "Sympathy for Mr. Vengeance" sale adelante


May 22nd, 2013

Nuevo trailer de la película de Ryan Reynolds, "Turbo"


May 22nd, 2013

Steven Spielberg desarrollando serie de TV de acción real de "Halo"


May 22nd, 2013

El productor de "Nymphomaniac" habla sobre las escenas de sexo hardcore de Shia LaBeouf


May 22nd, 2013

Dinobots y Galvatron a aparecer en "Transformers 4"?


May 22nd, 2013

Sam Neill dice que "Jurassic Park 4" es un reinicio, no volverá a protagonizar


May 21st, 2013

Nuevo trailer de "The Lone Ranger" de Johnny Depp llega online


May 21st, 2013

¡El nuevo trailer de "The Wolverine" ya está aquí!


May 21st, 2013

Primera imagen: Jennifer Lawrence como Mystique en "X-Men: Days of Future Past"


May 21st, 2013

Jeremy Renner no leyó el guion antes de firmar por "Hansel and Gretel: Witch Hunters"


May 21st, 2013

Tres nuevos posters de personajes de "Man of Steel", con Supermán, Zod y Jor-El


May 21st, 2013

April O'Neil ayuda a Raphael a pasar armas de contrabando en un nuevo video del set de "Teenage Mutant Ninja Turtles"


May 21st, 2013

Foto: Peter Jackson rueda las últimas escenas de la trilogía de "The Hobbit"


May 21st, 2013

Nuevos posters de "The Wolverine" con Yukio y Viper


May 21st, 2013

El remake de "Poltergeist" se rodará en septiembre. Primeros detalles revelados


May 21st, 2013

"Prometheus 2" busca reparto, Rik Barnett podría interpretar un papel protagonista


May 20th, 2013

Trailer del thriller de "Blood Ties", con Clive Owen, Mila Kunis y Zoe Saldana


May 20th, 2013

Warner Bros se prepara para "Justice League of America", Aquaman y Cyborg formarán parte del equipo


May 20th, 2013

Primera imagen de Peter Dinklage en el set de "X-Men: Days of Future Past"


May 20th, 2013

Trailer de la comedia de Larry David, "Clear History", con Jon Hamm, Eva Mendes y Michael Keaton


May 20th, 2013

"Star Trek Into Darkness" no le va muy bien, pero ya ha recaudado 164 millones de dólares


May 19th, 2013

Nueva trilogía de "Transporter" anunciada


May 19th, 2013

Marc Webb revela foto misteriosa del set de "The Amazing Spider-Man 2"


May 19th, 2013

Nuevo teaser de "Anchorman 2" online


May 19th, 2013

El director de "The Great Gatsby" dice que fue un idiota por rechazar "Harry Potter"


May 19th, 2013

Warner Bros revela una nueva foto del set de "Godzilla"


May 19th, 2013

Superman vs General Zod en los nuevos banners de "Man of Steel"


May 19th, 2013

Ron Howard y Brian Grazer usarán KickStarter para su película "Friday Night Lights"


May 19th, 2013

Marvel dice que "Marvel Zombies" nunca será una película


May 18th, 2013

Amazon cancela "Zombieland" por el odio brutal de los fans


May 18th, 2013

Ya está en marcha "RED 3" de Bruce Willis


May 18th, 2013

La estrella de "Terminator 2", Edward Furlong, arrestado de nuevo


May 18th, 2013

"Assassin's Creed" de Michael Fassbender ya tiene fecha de estreno


May 18th, 2013

Trailer de "Jimmy P" de Benicio Del Toro


May 18th, 2013

Michael B. Jordan insinúa ser la Antorcha Humana en el reinicio de "Fantastic Four"


May 18th, 2013

Quicksilver y Scarlet Witch confirmados para "The Avengers 2", regresará Iron Man?


May 18th, 2013
Trailer de "Flight" con Denzel Washington
June 7th, 2012

- Alex De La Cruz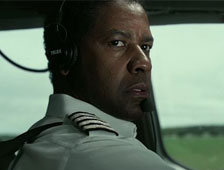 Paramount Pictures ha revelado el trailer de "Flight", protagonizada por Denzel Washington, Kelly Reilly, Don Cheadle, Bruce Greenwood, Brian Geraghty, Tamara Tunie y John Goodman. Compruébelo usted mismo a continuación.

Argumento: La historia gira en torno a "Whip" (Washington), un piloto de línea aérea comercial que logra la hazaña de volar en un avión dañado, salvando 98 vidas en un vuelo que transportaba a 106 personas. Mientras el mundo pide abrazarlo como un verdadero héroe americano, el piloto lucha con esta etiqueta, mientras se ve obligado a soportar el escrutinio de una investigación que pone en cuestión su comportamiento la noche anterior al fatídico vuelo.

La nueva película está dirigida por Robert Zemeckis (Back to the Future, Forrest Gump, Cast Away, Polar Express), quien volvió a la acción después de una década de centrarse en proyectos de animación. "Flight" está previsto que llegue a los cines el 02 de noviembre.



Trailer:

| | |
| --- | --- |
| | Fuente: Apple |
Por Favor Recomiende a PeliBlog en Facebook
Comentando en PeliBlog: Por favor, mantenga todos los comentarios en tema. Los comentarios que sean ofensivo o spam serán eliminados. Si violas constantemente las normas, serás expulsado.
Alrededor De La Web