Últimas Noticias
¡El nuevo trailer de "The Wolverine" ya está aquí!


May 21st, 2013

Primera imagen: Jennifer Lawrence como Mystique en "X-Men: Days of Future Past"


May 21st, 2013

Jeremy Renner no leyó el guion antes de firmar por "Hansel and Gretel: Witch Hunters"


May 21st, 2013

Tres nuevos posters de personajes de "Man of Steel", con Supermán, Zod y Jor-El


May 21st, 2013

April O'Neil ayuda a Raphael a pasar armas de contrabando en un nuevo video del set de "Teenage Mutant Ninja Turtles"


May 21st, 2013

Foto: Peter Jackson rueda las últimas escenas de la trilogía de "The Hobbit"


May 21st, 2013

Nuevos posters de "The Wolverine" con Yukio y Viper


May 21st, 2013

El remake de "Poltergeist" se rodará en septiembre. Primeros detalles revelados


May 21st, 2013

"Prometheus 2" busca reparto, Rik Barnett podría interpretar un papel protagonista


May 20th, 2013

Trailer del thriller de "Blood Ties", con Clive Owen, Mila Kunis y Zoe Saldana


May 20th, 2013

Warner Bros se prepara para "Justice League of America", Aquaman y Cyborg formarán parte del equipo


May 20th, 2013

Primera imagen de Peter Dinklage en el set de "X-Men: Days of Future Past"


May 20th, 2013

Trailer de la comedia de Larry David, "Clear History", con Jon Hamm, Eva Mendes y Michael Keaton


May 20th, 2013

"Star Trek Into Darkness" no le va muy bien, pero ya ha recaudado 164 millones de dólares


May 19th, 2013

Nueva trilogía de "Transporter" anunciada


May 19th, 2013

Marc Webb revela foto misteriosa del set de "The Amazing Spider-Man 2"


May 19th, 2013

Nuevo teaser de "Anchorman 2" online


May 19th, 2013

El director de "The Great Gatsby" dice que fue un idiota por rechazar "Harry Potter"


May 19th, 2013

Warner Bros revela una nueva foto del set de "Godzilla"


May 19th, 2013

Superman vs General Zod en los nuevos banners de "Man of Steel"


May 19th, 2013

Ron Howard y Brian Grazer usarán KickStarter para su película "Friday Night Lights"


May 19th, 2013

Marvel dice que "Marvel Zombies" nunca será una película


May 18th, 2013

Amazon cancela "Zombieland" por el odio brutal de los fans


May 18th, 2013

Ya está en marcha "RED 3" de Bruce Willis


May 18th, 2013

La estrella de "Terminator 2", Edward Furlong, arrestado de nuevo


May 18th, 2013

"Assassin's Creed" de Michael Fassbender ya tiene fecha de estreno


May 18th, 2013

Trailer de "Jimmy P" de Benicio Del Toro


May 18th, 2013

Michael B. Jordan insinúa ser la Antorcha Humana en el reinicio de "Fantastic Four"


May 18th, 2013

Quicksilver y Scarlet Witch confirmados para "The Avengers 2", regresará Iron Man?


May 18th, 2013

Trailer del thriller de ciencia ficción "Europa Report" de Sharlto Copley


May 17th, 2013

Christopher Nolan en conversaciones para dirigir "James Bond 24"


May 17th, 2013

"Iron Man 3" cruza la marca de $1 mil millones en la taquilla mundial


May 17th, 2013

Karl Urban dice que la secuela de "Dredd" puede ocurrir


May 17th, 2013

Los 50 actores más ricos, ¿Qué actriz es más rica que Oprah?


May 17th, 2013

Un cuadro en topless de la estrella de "Golden Girls", Bea Arthur se vende por 2 millones de dólares


May 17th, 2013

Se cancela la serie de TV "Zombieland"


May 17th, 2013

Trailer final de "The Hangover Part III"


May 17th, 2013

"Crouching Tiger, Hidden Dragon 2" se comenzará a rodar en marzo con Michelle Yeoh y Donnie Yen


May 17th, 2013

David Goyer explica por qué "Man of Steel" no se llama "Superman"


May 17th, 2013

Primera imagen: Christian Bale y Natalie Portman en "Knight of Cups" deTerrence Malick


May 17th, 2013
La película del vídeo juego "God of War" de nuevo en la pista
July 11th, 2012

- Javier Santos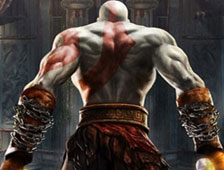 Ya en el 2008, se informó que Brett Ratner (X-Men 3, Red Dragon) tenía la intención de dirigir una adaptación cinematográfica del vídeo juego "God of War". Dos años más tarde se retiró, dejando en suspenso el proyecto.

Ahora viene la noticia de que Universal Pictures vuelve a trabajar el guión y ha contratado el equipo de Patrick Melton y Marcus Dunstan (Piranha 3DD, Saw 3D, Saw 6, Saw 5, Saw 4). David Self (Road to Perdition) entrego el proyecto inicial de la película.

El juego fue lanzado en el 2005 y sigue las batallas del guerrero espartanos Kratos, que se enfrenta contra bestias mitológicas como Medusa, Cyclops y la Hidra en su búsqueda para encontrar la caja de Pandora y destruir a Ares, el dios de la guerra.
| | |
| --- | --- |
| | Fuente: THR |
Por Favor Recomiende a PeliBlog en Facebook
Comentando en PeliBlog: Por favor, mantenga todos los comentarios en tema. Los comentarios que sean ofensivo o spam serán eliminados. Si violas constantemente las normas, serás expulsado.
Alrededor De La Web