Últimas Noticias
Las primeras reseñas de "World War Z" son sorprendentemente positivas


May 23rd, 2013

Robert Downey Jr no aparece en muchas de las escenas de Tony Stark en "Iron Man 3"


May 23rd, 2013

Trailer de "Metallica Through the Never," con Dane DeHaan y Metallica


May 23rd, 2013

Nuevo trailer restringido de "This Is The End", con Seth Rogen y James Franco


May 23rd, 2013

Nuevo trailer de "Grown Ups 2" de Adam Sandler


May 23rd, 2013

Un nuevo trailer de "Monsters University" de Pixar online


May 23rd, 2013

Trailer de "Don Jon", con Joseph Gordon-Levitt y Scarlett Johansson


May 23rd, 2013

Trailer de la comedia de Vince Vaughn "Delivery Man"


May 23rd, 2013

"Timecop" de Jean-Claude Van Damme a conseguir un remake


May 23rd, 2013

Trailer restringido para la comedia "We're the Millers" de Jennifer Aniston


May 23rd, 2013

Nuevo trailer de "The World's End" de Edgar Wright, con Simon Pegg y Nick Frost


May 22nd, 2013

Hugh Jackman sin camisa en la portada de Entertainment Weekly para "The Wolverine"


May 22nd, 2013

¡Ya está aquí el nuevo trailer de "Man of Steel"!


May 22nd, 2013

"Fast and Furious 6" rompe records de taquilla en Reino Unido


May 22nd, 2013

"The Human Centipede 3" se comienza a rodar este viernes


May 22nd, 2013

Dos nuevos posters de "The Smurfs 2"


May 22nd, 2013

El remake de "Sympathy for Mr. Vengeance" sale adelante


May 22nd, 2013

Nuevo trailer de la película de Ryan Reynolds, "Turbo"


May 22nd, 2013

Steven Spielberg desarrollando serie de TV de acción real de "Halo"


May 22nd, 2013

El productor de "Nymphomaniac" habla sobre las escenas de sexo hardcore de Shia LaBeouf


May 22nd, 2013

Dinobots y Galvatron a aparecer en "Transformers 4"?


May 22nd, 2013

Sam Neill dice que "Jurassic Park 4" es un reinicio, no volverá a protagonizar


May 21st, 2013

Nuevo trailer de "The Lone Ranger" de Johnny Depp llega online


May 21st, 2013

¡El nuevo trailer de "The Wolverine" ya está aquí!


May 21st, 2013

Primera imagen: Jennifer Lawrence como Mystique en "X-Men: Days of Future Past"


May 21st, 2013

Jeremy Renner no leyó el guion antes de firmar por "Hansel and Gretel: Witch Hunters"


May 21st, 2013

Tres nuevos posters de personajes de "Man of Steel", con Supermán, Zod y Jor-El


May 21st, 2013

April O'Neil ayuda a Raphael a pasar armas de contrabando en un nuevo video del set de "Teenage Mutant Ninja Turtles"


May 21st, 2013

Foto: Peter Jackson rueda las últimas escenas de la trilogía de "The Hobbit"


May 21st, 2013

Nuevos posters de "The Wolverine" con Yukio y Viper


May 21st, 2013

El remake de "Poltergeist" se rodará en septiembre. Primeros detalles revelados


May 21st, 2013

"Prometheus 2" busca reparto, Rik Barnett podría interpretar un papel protagonista


May 20th, 2013

Trailer del thriller de "Blood Ties", con Clive Owen, Mila Kunis y Zoe Saldana


May 20th, 2013

Warner Bros se prepara para "Justice League of America", Aquaman y Cyborg formarán parte del equipo


May 20th, 2013

Primera imagen de Peter Dinklage en el set de "X-Men: Days of Future Past"


May 20th, 2013

Trailer de la comedia de Larry David, "Clear History", con Jon Hamm, Eva Mendes y Michael Keaton


May 20th, 2013

"Star Trek Into Darkness" no le va muy bien, pero ya ha recaudado 164 millones de dólares


May 19th, 2013

Nueva trilogía de "Transporter" anunciada


May 19th, 2013

Marc Webb revela foto misteriosa del set de "The Amazing Spider-Man 2"


May 19th, 2013

Nuevo teaser de "Anchorman 2" online


May 19th, 2013
Trailer: Para "Cirque du Soleil: World's Away 3D" de James Cameron
June 29th, 2012

- Emily Johnson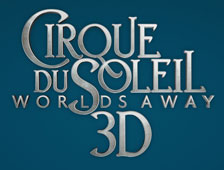 Paramount Pictures ha revelado el trailer de "Cirque du Soleil: World's Away 3D, escrita y dirigida por Andrew Adamson (Shrek, The Chronicles of Narnia) y producida por James Cameron.

La película cuenta con las actuaciones artísticas y acrobáticas de algunas de las más elaboradas producciones de Cirque du Soleil. El estudio la estrenará en los cines el 21 de diciembre.

Échale un vistazo a el trailer a continuación.



Trailer:

| | |
| --- | --- |
| | Fuente: Apple |
Por Favor Recomiende a PeliBlog en Facebook
Comentando en PeliBlog: Por favor, mantenga todos los comentarios en tema. Los comentarios que sean ofensivo o spam serán eliminados. Si violas constantemente las normas, serás expulsado.
Alrededor De La Web